Neurology Residency Program
About our Residency Program
The Department of Neurology at Barrow Neurological Institute is home to a vibrant and expanding neurology residency program that offers both adult and child neurology tracks.
Residents in our neurology program get deep exposure to neurology subspecialties like neuro-ophthalmology, neuro-otology, epileptology, movement disorders and DBS, multiple sclerosis and neuroinflammatory diseases, and neurodegenerative diseases. The size and prominence of our institution ensure that neurology residents receive exposure to a variety of complex and challenging cases in all of these areas.
Our neurology residents also have myriad opportunities to participate in translational neuroscience research and other academic activities. Residents also have ample opportunity to teach, with presentations at grand rounds, conferences, and symposia the norm.
Barrow Neurology Residency Program: In the Residents' Words
Residents in the Barrow Neurology Residency Program highlight the camaraderie between residents and faculty and early access to subspecialty training as reasons they chose Barrow.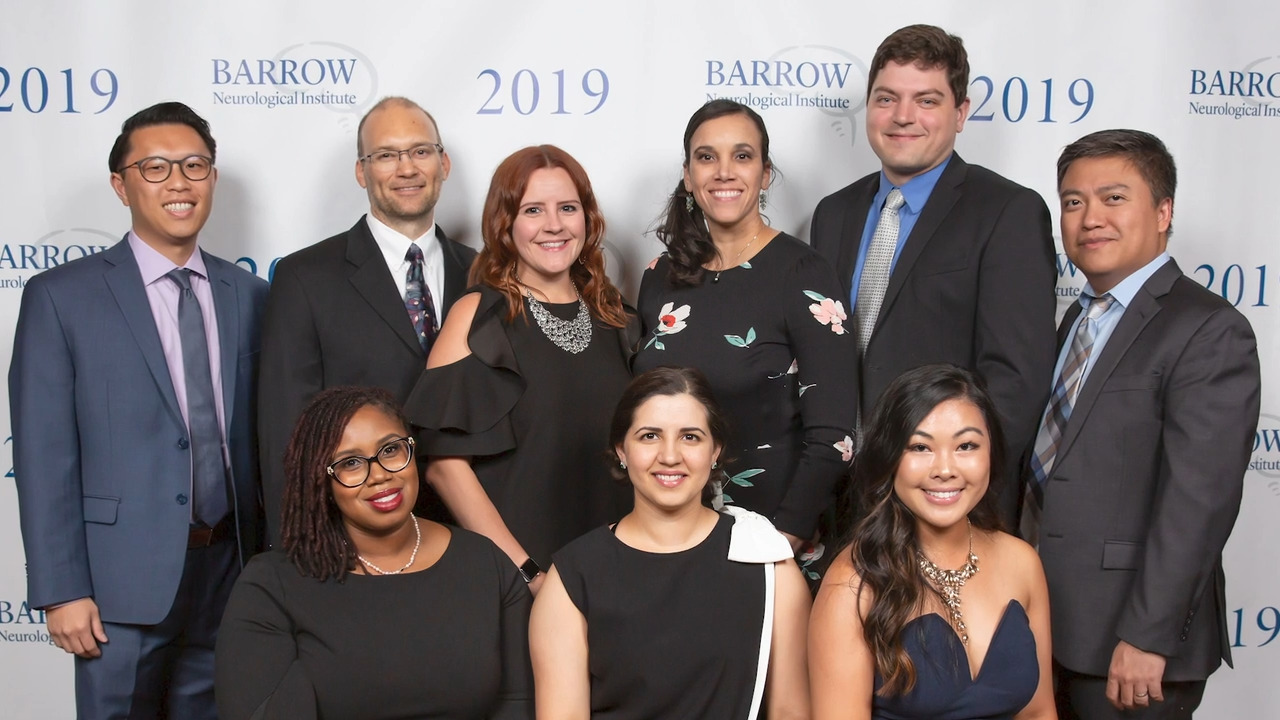 Barrow Neurology Residency Director Courtney Schusse, MD
Courtney Schusse, MD, program director for the Barrow Neurology Residency, discusses the unique benefits of a non-university program with myriad academic and clinical research opportunities.
Glynnis Zieman, MD, on the Barrow Neurology Residency Program
Glynnis Zieman, MD, associate program director of the Barrow Adult Neurology Residency Program, on the pride our faculty take in mentoring neurological residents.
The Barrow Difference for Neuroscience Residency and Fellowship Programs
Terry Fife, MD, designated institutional official for the neuroscience residency and fellowship programs at Barrow, talks about the unique strengths of our programs.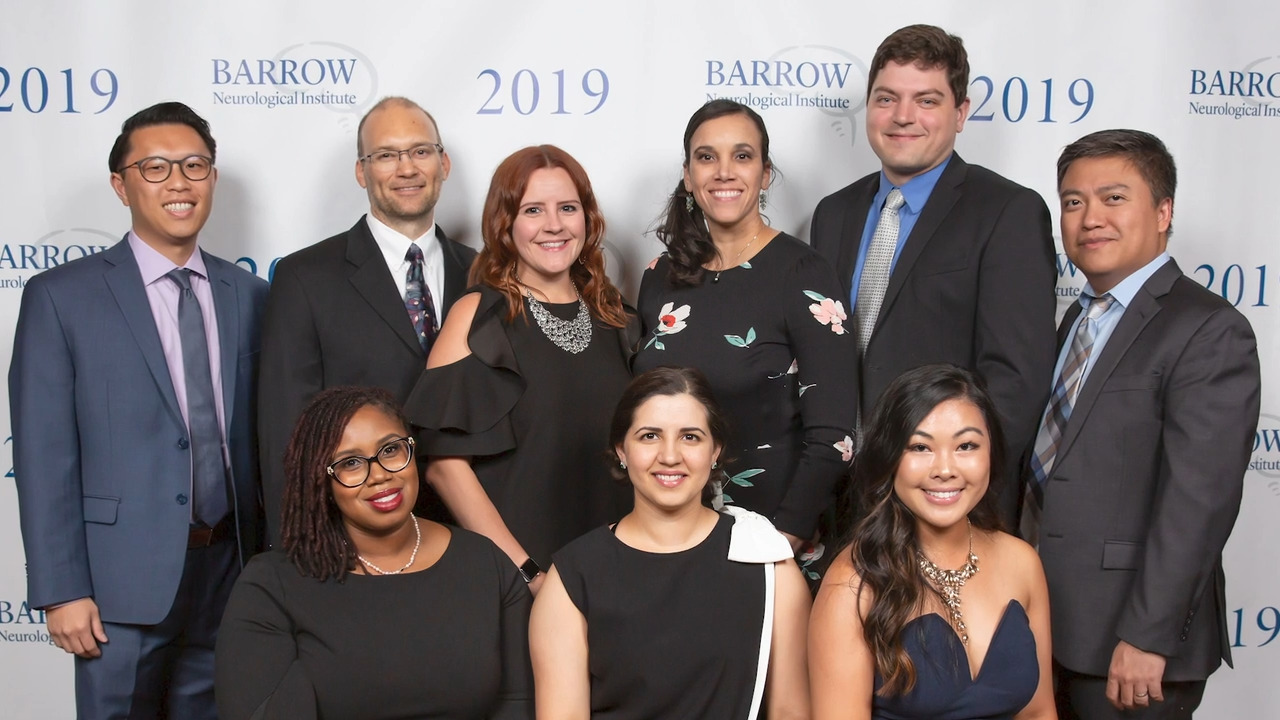 From the Program Directors
Dear Neurology Residency Applicants,
We welcome you to the Neurology Residency Program at Barrow Neurological Institute. Our Neurology Residency Program continues to grow, and consistently ranks as one of the top programs in the country. The success of our Neurology Residency Program is largely attributable to the outstanding qualities of our residents and excellent instruction by our faculty.
Since the opening of the new neuroscience patient tower in July 2006, inpatient services have grown steadily. The increased volume of our patients has broadened the clinical disease spectrum seen by our residents and enhanced their educational experience. The number of faculty has also significantly grown in many subspecialty areas as well as in our neuroscience research department. Our institutional sponsor, St. Joseph's Hospital and Medical Center, is currently building other centers of excellence modeled after the Barrow Neurological Institute.
We take great pride in our Neurology Residency Program. The primary goal of our program is to provide an environment conducive to comprehensive learning, career development, academic achievement, and clinical excellence.
Sincerely,
Courtney Schusse, MD
Director, Neurology Residency Program
Barrow Neurological Institute
Glynnis Zieman, MD
Associate Director, Neurology Residency Program
Barrow Neurological Institute
Important Application Dates
The Department of Neurology at Barrow Neurological Institute provides three residency tracks:
Adult Neurology – Categorical
Child Neurology
The application deadline for all three tracks is on November 1st of every year.
Get to Know Our Residents
Brandon May, MD – Intern
I like exploring the varied landscape that Arizona has to offer, whether it be the 1-hour drive to Sedona with beautiful hiking trails, the 2-hour drive to Flagstaff for cold weather even in the summer months, or the 2-hour drive to many of the Mogollon Rim lakes for trout fishing. My favorite area is Mt. Graham, which is approximately 3.5 hours away and Arizona's most prominent peak at over 10,000 feet, offering dispersed camping all along Forest Road 366. Two of the most desirable aspects of training at Barrow are the healthy balance of consulting service work with primary service work and a schedule that allows ample opportunity for early elective blocks before fellowship application time.
Connor Welsh, MD – PGY 2
I'm Connor, and the most fun fact about me is that in my spare time I perform as the vocalist in a metal band. I also enjoy ultramarathon running, video games, playing with my dogs, and binge watching baking shows with my wife! I chose neurology because it's a field of explosive growth AND I think "localizing the lesion" is super cool. I chose Barrow because not only is it a huge neurological center, but the people here are awesome, and the chemistry is unlike anything anywhere else!
Judea Wiggins, MD – PGY 3
I've been very fortunate in my life to be surrounded by people that are supportive, down to earth, and dedicated to ensure success not only for themselves but for those around them. This is why I ultimately selected training at Barrow. Aside from some of the best neurology training in the country, you have the added bonus of being surrounded by the most genuine people who go above and beyond for both their patients and their colleagues. Living in Phoenix of course is the cherry on top! I've definitely taken advantage of the year round hiking, the amazing food scene, catching a professional sporting event, and indulging in lazy lounge days by the pool.
Zain Ashary, MD – PGY 4
For fun, I like to draw comics! I also enjoy going on hikes around Arizona, becoming a bandwagon fan for the Phoenix Suns, and eating all the free ice cream Barrow has to offer! I really enjoy the culture the attendings, co-residents, and staff have set in this institute to make it a fun and inviting place to train and learn how to become an excellent neurologist. I am confident that, with the experiences I have had here, I will be able to tackle any problem in neurology.
Evan Dishion, MD – Intern
I enjoy getting outdoors, exploring, and hiking. I have hiked and explored many of the mountains, national forests, and national parks around Arizona. I am also an avid runner, enjoy reading, listening to science podcasts, and spending time with friends. Barrow has been a phenomenal place for residency training. From the fascinating cases seen here, the ultramodern clinics and equipment, to the wonderful residents and faculty, I couldn't have ended up in a better place to train.
Elizabeth Anderson, MD – PGY 2
For fun outside of work I love hanging out with my current resident class-we make it a point to spend as much time together as possible, from spending every birthday together to going on group trips together to the cabin. I also love to hike, and love to explore new restaurants around town! A fun fact about me is that I have a undergraduate degree in Zoology with an emphasis in Ornithology-I can spot and identify any bird from a mile away-caw caw! I love Barrow because they support me and all that I am-everyone is part of a big family that supports one another and wants me to grow as the best neurologist I can be.
Harjot Hansra, MD – PGY 3
I love spending time with my co-residents and visiting friends and family. I enjoy doing board game nights, poolside hangouts, escape rooms, and checking out restaurants. I also love dancing; I choreograph bhangra routines and regularly drag some friends to go salsa dancing with me. Phoenix is such a mix of a calming, outdoorsy environments with lots of options for having fun in a young, growing city! I came to Barrow because of the camaraderie between residents, faculty, and even other departments. Plus, the volume and breadth of cases and early subspecialty exposure definitely sold me.
Virtual Campus Tour